SME FUND 2023 – LIVE WEBINAR WITH THE EUIPO
Power your business with the SME Fund 2023 edition - 2nd update focused on patents and plant varieties!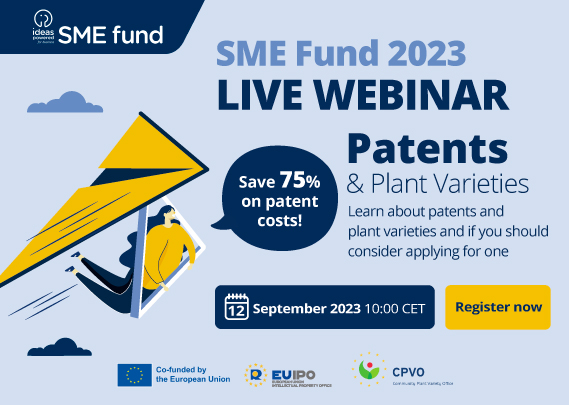 Discover how the SME Fund can boost your business with financial support for your intellectual property (IP) rights, especially for patents and plant varieties.
This year, 2 extra vouchers have been published:
- Voucher 3 – patents – save EUR 1 500 on eligible fees;
- Voucher 4 – community plant varieties – pay only EUR 225 for online application fees.
Through this webinar, you will:
- understand how the SME Fund can benefit your business;
- learn how to claim your fee reimbursement for IP Scan services, trade mark, design, patent and plant variety applications;
- get more insight on the services covered for patents and for plant varieties.
If you are an EU SME wishing to protect your IP rights or any other actor involved in the SME Fund Scheme, this is the webinar for you (please note that businesses that applied last year can apply again this year).
The Ideas Powered for business SME Fund is a European Commission initiative implemented through the EUIPO.
Find out more about the SME Fund here: https://euipo.europa.eu/ohimportal/en/online-services/sme-fund?mtm_campaign=ip-ie
Link to register: https://euipo.blumm.it/event/ar/906/webinar-20230912-1000
Tuesday, 12 September 2023 • 10:00 - 11:00 CEST