Student Enterprise Programme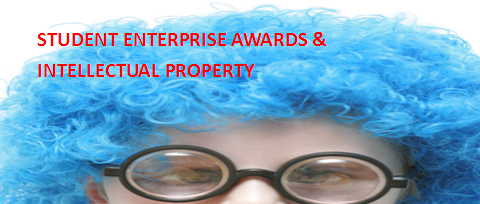 The Intellectual Property Office of Ireland is pleased to be involved in the Student Enterprise Programme2020-2021, as we wish to encourage student entrepreneurs to reflect an awareness of Intellectual Property (IP) and the value of IP rights when setting about developing a business idea and establishing and running a successful enterprise.
A special prize, sponsored by the Intellectual Property Office of Ireland, will be awarded at the National Final, in each category.
Students will be judged on their understanding of the area of IP for business and how they considered the various IP issues in relation to their own student enterprises. For example, how a team researched the uniqueness of their brand, identified IP rights owned by others that they need to request permission for,  and if and how they have looked into how to protect their own IP for their student enterprise.   
Award Categories:
•  Intellectual Property Award (Junior Category)                  €200 One4all voucher
•  Intellectual Property Award (Intermediate Category)        €250 One4all voucher
•  Intellectual Property Award (Senior Category)                  €300 One4all voucher
How to Enter:
To enter, students must include a section on Intellectual Property in their business report submitted for the National Final which must be submitted by the closing date.
Why is IP so important?
The branding of your goods/services or the way your product looks is very important. In addition, you must ensure that the technology you may use in your product and the promotional literature you print should not infringe on anybody else's rights.  All this means you will have to consider one or more of the different types of IP and how this may impact on your business. Remember! every business has some form of IP and IP is very important for your business's success.
Live Broadcast
Watch our colleague's live broadcast hosted by the Student Enterprise Programme, to learn more about how IP relates to your enterprise.
You can also follow us on Facebook to get our latest news.
IP in Your Business

Choosing your brand - is it already trademarked? A new product - is it patentable or is it a design or it may be both? Can your work be covered by Copyright? These are questions which should be considered by every business when setting up.

Why IP?

Knowing how to use, protect and exploit Intellectual Property (IP) should be an important factor to be considered by anyone establishing any new business or enterprise.

Find out more:

Take a look at the additional information and IP-Panorama which will help you develop your understanding of the role of IP in business.

See how abstract IP rights influence everyday products.

Explore the different forms of Intellectual Property :

·         Patent

·         Design

Use the IP PANORAMA e-learning tool to increase your IP-awareness and obtain practical knowledge about using IP for business success.

Student Resources

Consult this link for further information on the Intellectual Property Section of your application. 

The timetable of events, rules; judging criteria; marking scheme and advice from judges, are available at www.studententerprise.ie